entries
0
comments
0
views
595
About this blog
 Xiamen Betopper Company is located in the beautiful coastal city Xiamen, which is a professional manufacturer of air pushing bags, air cushions, oil storage bags, water storage bags, biogas pool and other special equipments for mining and construction projects, especially for granite and marble quarries. We have rich experience in manufacturing air pushing bag, which adopted high-quality raw materials, advanced technology and passed through strictly inspection. Our products are enjoying high reputation in market with high quality and competitive prices, whatever domestic or overseas, occupying 90% domestic market, and exporting massively to more than 40 countries, such as North America, South America, EU, India, Middle East, etc.
Facing future, we will work harder to produce better products with more competitive prices and supply better pre-sales & after-sale service to customers. We have faith that more and more people will benefit more from us.

Owe to its high-efficiency, reusable, economical, and capable to separate and even overturn blocks easily, tidy and not damaged, Betopper air pushing bag is displacing equipments like hydraulic jack and hydro bag in quarries of marble, granite, limestone and so on, no matter blocks cutting by wire saw, blade saw, chain saw, flame jet or cracking powder.
We keep innovating and improving to be a leader of air pushing bag, our unique design without air hose inside makes it easier to put air pushing air bag into crack between blocks.
Through our experiment and cooperation with thousands of quarries around the world, introducing Italian advanced equipment and raw material, especially adopting our new technology and new materials, quality of air pushing bag has a new qualitative leap, thickness is same as less than 8mm, but more strength, more reliable quality and longer designed  life-span more than half a year, especially more safety.
Betopper air pushing bags, your best choice! 
Pushing tool --- air pushing bags, which is used for blocks splitting after wire saw cutting in quarrying.
specification(mm)

pushing power(ton)

500*500

15

1000*500

25

1000*1000

50

1000*1500

75

1000*2000

100

1500*1500

115

2000*1500

150

1800*1800

165

2000*1800

180

2000*2000

200

2000*2200

220
Thickness: 8mm

Advantages:
1. Material: High strength netting..
2. Reusable, not one-time products like water steel bags. The designed Life-span can reach half year  
3. Earlier you use, more costs you'll save.

What's more, we are continuing to improve it through our cooperation with domestic quarries. And we can design subject to your special requirement.
pls do not hesitate to contact us sales1(at)betopper.com . Waiting for your contact to disscuss the possible deal. Thanks
Best Regards
 
Xiamen Betopper Mining Machinery Co.,ltd.
Add: 12K Bonded Goods Market Building,
Modern  Logistics Park, Xiamen, China
Tel:  0086 592 5669778
Fax: 0086 592 5663335
Email: sales1@betopper.com
Skype: betoppertools1
MSN:sales1-betopper@hotmail.com
Web: www.betopper.com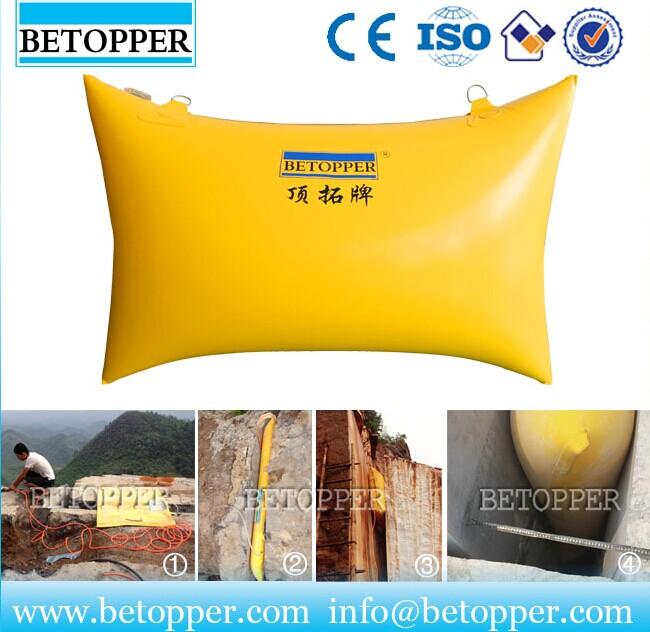 Entries in this blog
No blog entries have been created